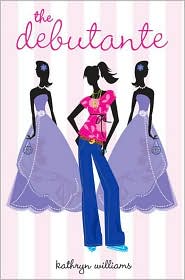 Synopsis:
Annie McRae has her whole senior year planned out. Early acceptance to Brown University, a field hockey scholarship to pay the bills, and days spent with her best friend Jamie and her boyfriend Jake. It is going to be perfect. Then her parents ruin it all by moving--to Alabama. Now, Annie finds herself in an unfamiliar world where she isn't even sure she speaks the same language. To top it off, she discovers that if she ever wants to escape back to her comfortable Yankee life, she will have to become a debutante. As in white-dress-wearing, perfect-manners-practicing, curtsying girly-girl. Fighting every step of the way, Annie spends the year learning to be a lady. Along the way, she discovers that friends can come from the most unlikely of places and that change is not
always
a bad thing...
Review:
I went into this book knowing exactly what it was about, well, at least the background of it. I have heard a lot of Debutante Balls from my roommate/best friend (her family is based in the south) and I have also read up on them a bit. So when I saw that the plot line was about a Northerner being thrust into Southern Bell society, well, I knew I had to read it! I was not disappointed either by Kathryn (omg, she shares my name! maybe there is hope for me!) Williams writing. She did a fantastic job with getting me involved with the story and had me wondering what Annie's next move was going to be.
The characters in the book had depth, when they were the ones in the front. For instance, Annie in comparison to Mom; big difference. I felt like some of the characters needed to be a bit more established. Regardless, I still felt the book was good. The plot was very well thought out and simple, but not too simple. Granted, it was your typical teen novel with the drama and heartache, but it still remained original because of the spin of being in the Debutante world.
Overall I liked this book. I am hoping that there would be a sequel, because the way it ended kind of made it feel like there should be. I would definitely recommend this to readers, as it is just a good, nice read (as in not too hard). Kathryn Williams has definitely produced a winner here, and I will be passing this book along to whomever is willing to read it in my circle or friends!